Dark Elf: online hra - super game - multiplayer game - strategic free game
Online hry? Nejlepç¡ je Dark Elf. Hran¡ je zdarma, spad  do kategor¡: super hry, webhry, super hry zdarma,zdarma hry,webhry,online hry,webov' hry,multiplayer hry,strategick' hry,1000her,logick' hry,online hry,multiplayer hry,1000her,webov' hry,multiplayer games,fantasy hry,logick' hry webhry.
Dark Elf (www.darkelf.eu, www.darkelf.cz) is a strategic online game based upon the motives of the Lord of the Rings. Its uniqueness lies in the vast map of the game world on which you have everything at hand - the lands, the armies, the forts etc. The goal of the game is to conquer the tyrant Dark Elf which can be achieved only through uniting players in an alliance and therefore cooperation.

The game is a sort of a mix between Civilization (you turn a certain number of rounds per day) and HoM&M (training your heroes, conquering lands, casting magic). You don't need to install anything; all you need is a browser and it doesn't matter whether it's from home, school, an internet café or from work.
Each day you are given your number of turns and at midnight, the system evaluates your spells and attacks. After you log in in the morning, you shall find you whether you have conquered more lands and your income of gold and mana has risen or on the contrary whether your enemy conquered your most developed land or - God forbid - has slain your beloved hero.
Dark Elf is a game which won't give you the pleasure of constant action as for example Call of Duty would. Dark Elf requires a bit of patience because the results of today's effort can't be seen sooner than tomorrow… yet still - if you're suffering from lack of adrenaline or suppressed emotion, be assured that this game will help you get rid of both. It's an internet drug!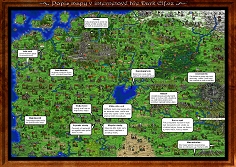 So what makes Dark Elf so unique? The most important factor would be the huge map of the game world which provides basic game information through small graphic icons. Beginners should check the manual to see what they can find in the map. This map-based system is what distinguishes Dark Elf from other Czech online games, where you can basically attack anyone whereas here you are limited by your position on the map, mountains, rivers, seas etc. You can attack the overlords which you don't share borders with, but only by magic. This requires a quite high level of cooperation in your alliance (clan).

In registration you choose a league, the race you want to play with, your nick and a map area in which you begin - in a poor land with just a handful of soldiers. One by one, you conquer neighboring lands, you gold income grows and soon you clash with other overlords. There is no greater pleasure than pacifying you enemies with a barrage of deadly spells followed by your legions led by a well-trained hero.

Here are all the heroes you can choose from - you control your hero and train him as he gains experience in combat, very similar to Heroes of Might&Magic.

Dark Elf was launched in March 2001 and every day, thousands of players log in to play their turns. Both registration and playing are for free! All you need is a browser, a bit of time every day and some patience to the start - once you conquer your first land, the game won't let you go! Off to fight!
How to begin

Registering is explained elsewhere so I will only add that I recommend taking Ents, Barbarians or Uruks if you are playing for the first time.
Now - how to play? Please be careful with buying buildings and casting spells. They are very useful but considering you are a newbie, you will probably buy something completely useless for you. During the first three days you won't need anything else than the GRANARY!


1) Build the granary
2) Turn all your turns
3) Buy the maximum of soldiers you can
4) Declare war on the land you want to attack
5) Send a conquering attack with full strength (at least 60 and +10, +20 the next two days)
6) If you have a sufficient army to send a second attack, repeat 4) and 5) with a different land.

And that's it! Wait until tomorrow (the overcount begins at midnight and lasts fifteen minutes) to get new turns and see the result in the reports. It is a primitive guide but it wil be a good help to newbies. PS: I recommend checking in the evening that the land you are attacking wasn't given to a player who registered after you. If yes, cancel the attack and send it elsewhere, following 4) and 5) again.